---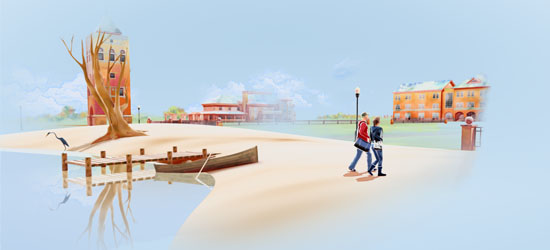 ---
Multi award-winning
Bay Area
production studio
Little Fluffy Clouds
, founded in
1996
by creatives,
Betsy De Fries
and
Jerry van de Beek
, specializes in high-end motion graphics and animation.
Talented, imaginative, experimental yet pragmatic, Little Fluffy Clouds, brings a unique edge to concept design, live action with integrated motion graphics, state-of-the-art VFX, character development, 2D and 3D animation, title sequences and all forms of interactive and mobile media.
Their compulsion for storytelling, interwoven with a constant eye for exploration, development and investment in the latest technologies, allows this talented duo to think freely, to playfully question, concept, dream, draw, code, animate, produce and deliver experiences that enable their clients' ideas to shine. Diversity of style is the studio's byword.
---
---
Awards - festivals:
Pixie Awards 2012 – Platinum (X2)
SIGGRAPH: 1996, 1997, 1998, 1999, 2003, 2008, 2010
Telly Award 2010 - Silver
Dolby Labs 2009 3D Stereoscopic Film Festival
Paris International NEMO Film Festival 2008, 2009
Montreal International Animation Festival 2008, 2009
Creativity 37 - Silver Award
Prix Ars Electronica 2008
San Francisco International Animation Festival 2007
Annecy 2007
KAFI 2007
Coyote Film Festival 2007
Clio Award - Bronze
Anima Mundi 1997, 1998, 2003, 2007
Anicomm World Animation Celebration 1998, 2007
London International Advertising Awards
Creativity 27 - Gold Award
San Francisco Ad Club Award
Holland Animation Film Festival 1998, 2006
Tenerife Advertising Festival 2006
IV'03 London 2003
World Animation Festival Pasadena
Milano Premio Imagine
Tokyo Multimedia Grand Prix
Bruxelles Le Festival Du Dessin Anime
Monaco Pixel Ina
Montreal Cyberworld
Ottawa International Animation Festival
Direction Magazine
---
Publications:
Conde Nast 2010 - Picture Perfect: Seeing and Understanding Color and Design.
Ilex Publication 2010 - A Critical Guide to the 3 Minute Animated Short.
Sybex Publication 2009 - Professional Digital Compositing.
Harper Collins 2008 - Creativity 37 Annual.
Hells Kitchen 2008 - Total Animation.
Taschen GmbH 2005 - Animation Now!
Premiere Publication 2004 - Inspired 3D Short Film Productions.
IDN-Flips 2004 - Animation 7
Rockport 2003 - The Best of 3-D Graphics.
MacMillan/New Rider 2000 - Inside Softimage.
Rockport 1999 - Computer Animation - A Whole New World.